Nick's illustrations and designs have appeared in multiple publications and books. Click the thumbnails below to see examples.

Don't Crunch Your Chips
While I'm Putting!
Golf Etiquette for
Beginners of All Ages
Award-winning author Beth Brainard's newest book tees up golf's basic rules of etiquette in a fun, easy to read format fully illustrated by yours truly.
Written by Beth Brainard
Cover Design & Illustrations: Nick Edlund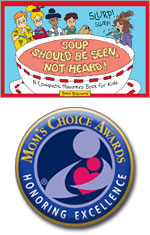 Soup Should Be Seen,
Not Heard!
A Complete Manners Book
for Kids
Nick designed and illustrated the cover for a new edition of Beth Brainard's award-winning children's manners guide. Matching the original artist's style while modernizing the characters for the new millennium was a challenge!
Written by Beth Brainard
Cover Design & Illustration: Nick Edlund